AN ATTRACTING ATTRACTION - THE WORLD OF CAESARS
Described here is a milestone themed environmental project, produced for Caesars Palace, in Las Vegas, Nevada.
As Project Designer, working for The Landmark Entertainment Group and Caesar's World, Inc., I was asked to come up with a way to attract more pedestrian traffic into Caesar's Olympic Casino, making use of an existing people mover. The client's goal was to double the number of people entering at this location. UPON OPENING ITS DOORS IN 1986, THE COUNT WAS UP OVER 400 PER CENT!
Pedestrians were drawn from the surrounding sidewalks and Strip into an ancient Temple of Overflowing Abundance… (Wealth and riches symbolically flowing out). Like salmon going upstream, guests were attracted into this dome, stepping upon a magic carpet, which literally transported through ancient Rome, the night of a major festival. Where we had seen modern high-rise hotel buildings just a few seconds before… Kazaam… they pixy-dusted … into a world 2000 years past.
The popular "WORLD OF CAESAR" attraction, combined environmental design, audio, video and special effects including a custom fiber optic system and simulated holography, all carefully controlled and synchronized to achieve the desired results.
Programmable environmental fragrancing (aromatherapy) was also proposed, but not implemented, due to immature technology. Note: Only recently have l patented and produced the required technology which would have made this a true multisensory experience.
The diorama within was used as the inspiration for the recent redevelopment of Caesars. The new Roman-themed high-rise hotel towers match very closely those from the diorama. In fact, a new Colosseum sits now, in reality, where we placed it years ago in the diorama/model. The same columns with winged angels triumphant upon them and the torchieres I sketched years ago are abundantly placed thereabout the renewed resort. (Evidence of this transformation can be viewed here.)
---
Linked Design Documents:
DESCRIPTION: The popular "WORLD OF CAESAR" attraction at Caesar's Palace set the direction for future additions to the famed Caesars Palace and inspired in part the recent transformations within Las Vegas. This gallery includes early design sketches and as-built images, then-and-now for educational purposes.
The Project: <![if !supportEmptyParas]> <![endif]> The Landmark Entertainment Group was commissioned to develop a concept and to design the new entrance for a moving walkway located in front of Caesar's Palace. In addition, we have been contracted to build all of the show elements involved.....(Documents from 1985 and 1986)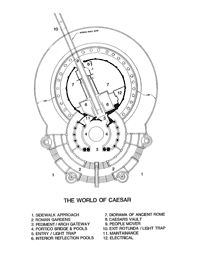 Water Features: Water was used extensively for reinforcing the process, adding an important layer to this marketing environment. Images and notes present the strategy here.
by Sandra R. Joshel, Margaret Malamud, Donald T ... - 2005 - History - 299 pages Inside the rotunda is a diorama of ancient Rome that includes holographic images of Julius Caesar and Cleopatra, the Colosseum, the Forum, and the Palatine...

---
c. 2008 R. Douglas Nelson. All Rights Reserved .