The FAIRYLAND RESTAURANT DINNER THEATER
While working with the Landmark Entertainment Group and Sanrio Co. of Japan, I developed the concept an incredible Fairie-Forest themed Dinner Theater. This restaurant was included as an attraction at Sanrio Puroland and is a popular attraction today.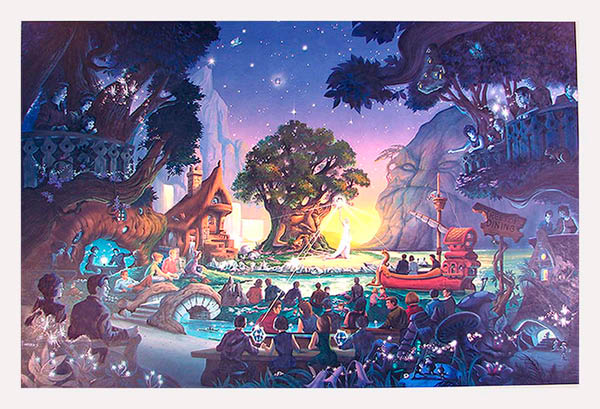 Click Here to go to Image Gallery
Click here to download "Fairyland Water Features" PDF
SANRIO PUROLAND; R. Douglas Nelson: Executive Show Director/Show Designer
Sanrio Co., Ltd., Tokyo, Japan 1986-1989
Indoor themepark based on Sanrio Characters (HELLO KITTY, etc.), opened 1990. Estimated cost 1.3 billion dollars.
FAIRYLAND RESTAURANT; R. Douglas Nelson: Concept Designer/Show Director.
Dinner Theater within a Fairyland Fantasy-World setting. Live actors join with audio-animatronic and projected characters to present a fairytale musical experience. This multimedia environment is loaded with programmable lighting and lasers, waterfalls and water effects, show-action equipment and many special effects. Guests pass through a Celtic archway, then enter the multi-level restaurant through an underground cavern (pre-show holding area) Facility even includes treetop dining. This project was the inspiration for the Ginza Fairyland store.
---
FAIRYLAND RESTAURANT ; R. Douglas Nelson: Concept Designer/Design Director.
Sanrio Co., Ltd., Tokyo, Japan Opened 1990
Fairyland Themed Dinner Theater.
Tama New Town, Tokyo, Japan
CREDITS: - Produced by Landmark Entertainment Group, for Sanrio Co., Ltd., Tokyo, Japan. Concept Designer/Project Designer: R. Douglas Nelson. Thanks to the Landmark and Sanrio teams, sub-contractors and the many other talented individuals (too many to list) that made this Fairy Dream come true.