Alpha Sensory™
creators of
Advanced Multisensory Experiences

Multisensory Delivery System by Multisensory Systems, Inc
ALPHA SENSORY is on the cutting edge of experiential show design, environmental design and multisensory programming, creating environments and experiences... transformational in nature... deep, touching and profound.
A full multisensory experience can be incredibly powerful. By combining numerous sensory inputs, a heightened interaction can be established between individuals and a programmed presentation.
To support the process we use the tools and techniques of the theme park industry combined with sensory display systems such as those developed by Multisensory Systems, Inc. and others. Traditional design teams are expanded to involve the expertise of scent designers and aromatherapists, sound and vibrational healers, various therapists, spa experts, etc.
Alpha Sensory - Designers and producers of next-generation sensory experiences and environments for spa and healing applications, special needs training and for entertainment purposes.
| Project Portfolio | Services Offered | |

---
Invitation
Alpha Sensory invites qualified therapists, healers, and practitioners to inner-journey within personal "multisensory environments". These prototype systems bring together sophisticated mind-body technologies into a single synergetic tool integrating wraparound visuals, 3-D sound, tactile stimulation and a unique, patented aromatherapy delivery system. Personalized experiences with advanced biofeedback interface, totally controllable by the therapist.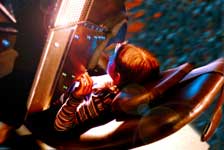 Both system prototypes are currently located in Ojai, California.
Alpha Sensory has complete access to those prototypes and is in the process of developing multisensory software programs for various modalities. We would like to collaborate with therapists and other healing professionals in their creation, which we plan to distribute in various media formats around the globe. At the same time, those therapists may have the option to bring their own clients to our studio to experience the new creations with the prototype. Alpha Sensory will provide the assistance of a system hardware and/or software designer and system operator.
In the next few months we will be uploading more information about the rare opportunity to experience these until now "hidden systems".
By appointment only.
For more information or to arrange an appointment, please send e-mail inquiry to:

MultiSensory Systems, Inc. has invented and patented unique systems and methodology that provide a dramatic new experience for individuals, which when applied properly can reduce stress, alter consciousness and promote well being. Most notable is an aroma dispensing technology (aromaComposer) that leapfrogs the capabilities of current devices in the aromatherapy marketplace.
---
A Symphony of the Senses
The creators came together ten years ago to combine many sophisticated mind-body technologies into a single device, a 21st century multisensory projection system that is immersive, interactive, and guides users through powerful and personal inner journeys. This unique system integrates visual imagery, three-dimensional sound, aroma and full body vibration into a unique multisensory "InnerTainment" experience.
Programming is planned for specific purposes including Relaxation and Stress Reduction, Inspiration, and Personal-improvement.

---
Prototypes have been undergoing intensive testing and evaluation in our California studio, resulting in highly refined system designs and very effective approaches to software production.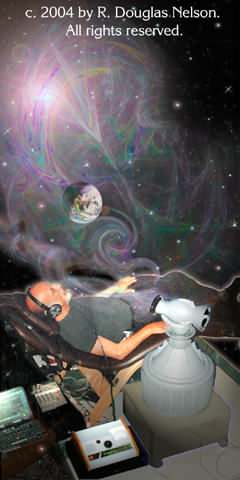 User... above, floats off into a virtual multisensory world, utilizing state-of-the-art aromaComposer technology.

---
Multisensory Integration
Multisensory research has become an interdisciplinary scientific field concerned with the neural and psychological mechanisms of intersensory interaction.
"Multisensory Environments" (MSE's) are now widely accepted as effective therapy for special needs populations by the staff that care for them. Developed from the Dutch "Snoezelen" concept there are thousands of MSE's worldwide developing new ways to encourage awareness, exploration, and learning. One particular company alone has created over 3,000 multisensory environments, into a variety of settings within 20 countries.
Most multisensory environments incorporate some kind of aroma diffusion system. Aromatherapy by itself and in conjunction with other therapies, has been well received by thousands of scientists and researchers, as well as by medical, beauty and health professionals and by millions of people, particularly in England, France, Germany, Belgium, and Switzerland, where aromatherapy is widely practiced. The United States, Canada and Australia are the new frontiers. In the late 90s, Harvard Medical School started reporting on their research in this area and said that health and mood were directly influenced by aromas and that each aroma has a distinctly different effect.

The synergistic combination of scent and sound and tactile sensation produces a result quite unlike the separate sensations by themselves.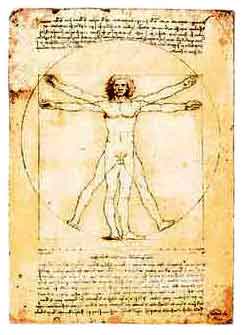 "What is synergy? Simply defined it means that the whole is greater than the sum of its parts. It means that the relationship which the parts have to each other is a part in and of itself. It is not only a part, but the most catalytic, the most empowering, the most unifying, and the most exciting part." Quote by Stephen R. Covey

Jeremy Rifkin, noted futurist, lecturer, author and President of the "The Foundation on Economic Trends", in Washington, DC, had the opportunity to experience the future, here in Ojai, California, which is an emerging center for complementary therapies and frontier medicine.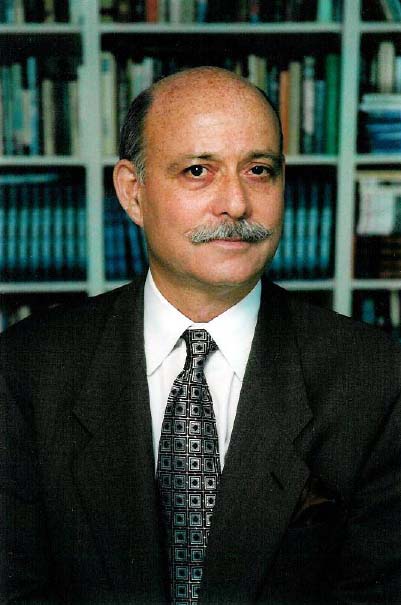 Here is written commentary by Jeremy Rifkin (JR) following his visit to the Multisensory Systems studio.

---
Immersion & Control
For centuries, man has searched for experiences that transcend ordinary states of reality. These transcendent states have long been known as highly effective environments for healing, inspiration, teaching and personal transformation. has developed a breakthrough multi-sensory technology that stimulates people in unique ways to produce these powerful nonordinary states of consciousness.
The Multisensory Stimulation System (MSS) provides a user with a personalized experience that is immersive; that is to say, that it fully immerses an individual user within a multisensory environment. By immersing our senses in an integrative sensory environment, we can free the mind from all we think we know and understand and place ourselves in a truly open and receptive state.
The Multisensory system is vastly superior to and more capable
than anything available within the multisensory environments
today. The patented controller technologies and aroma blending
capacity give us a distinct advantage over others in this
field.
Intro to the "Multisensory Stimulation System"
PDF Publication - 2.5 MB
Multisensory Stimulation System - External Web link

---
Sense of Smell & the AromaComposer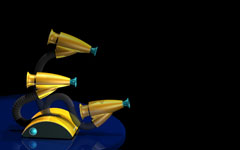 "Much more than just an aesthetic experience, the aromaComposer provides reinforcement within the transformative process."
"The Multisensory Experience: The aromaComposer takes the tools of traditional aromatherapy into programmable multisensory environments."
The prototype & patented aromaComposer is the most advanced multi-scent blending and therapeutic aroma diffusion system available anywhere.
The personal AromaComposer is completely controllable, permitting automated, yet delicate blending of pure essential oils into a variety of custom blends or "synergies"; a choice of thousands being possible. When in use, this next-generation system emits a gentle stream of scent to the user. As the user's needs change, this scent can change or evolve into a completely new one within a matter of seconds. This system leaves no residue or lingering odors and is completely programmable. It can even produce blends automatically upon predetermined queues; accompanying either music and/or guided meditation experiences on CD and DVD discs.

For the first time we are capable of exposing a user to a vast variety of scents within a few seconds of each other. "This means that you can virtually walk through a garden, smelling each individual flower as you pass."

We now have a way of presenting aromatic essences in a new context. A progression of inhaled aromatics guide people though a process, each scent with its own distinct purpose in that process, and each step preparing them for the next in that process. This works very well when integrated into a multisensory experience.
Smell has a more direct route to the brain than any other sense.

Prototype aroma diffusion technology: Multisensory Systems has invented and patented an aroma dispensing technology that leapfrogs the capabilities of current devices in the aromatherapy marketplace.
The personal "aromaComposer" aroma diffusion system automatically blends a handful of pure essential oils into thousands of custom synergies, switching scents instantaneously without lingering residue, for high-quality aromatherapy, multisensory therapy and entertainment applications.

The new "AromaComposer" 3rd-Gen Prototype in Progress
PDF Publication -1 MB
aromaComposer - External Web Link

---
The "CENTER" Retreat Center & Spa
Designed 1982-1984, 2008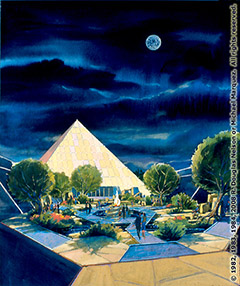 "A complete New Age Center…
… a center created to stimulate balanced growth…
… bringing about a better mankind begins by bringing about a better man".



The project was recently revived as a prototype retreat center and multisensory spa.
Click Here to Visit "The CENTER" Gallery

Text and Images C. 2004, 2005, 2006, 2007, 2008, 2009 by R. D. Nelson. All rights reserved.