Index

This site is dedicated to its namesake, "Aloha Skatetown"; a radical and innovative second-generation skatepark built in the late 1970's. This site documents the design, construction and history of the park, and celebrates the skateboards and the skaters, together with the media and the methods used to create and capture that part of skating history.
This site is a work in progress and shall be updated frequently.
Last update 8/21/08
---

---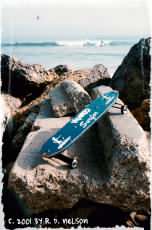 Visit our photo gallery of vintage skateboards and skates
.
---

---

---

Old Movie Cameras, etc.
---
Skate Sounds in Ultra-Real Binaural/3-D Audio
---

---

---
Sooner or Later:
Other Classic Skateparks
News
Memorabilia
Art
Media: Audio, Video, etc.
---
Home|Aloha Skatetown Skatepark|Vintage Skates
Skatepark Design|SkateShots Gallery|Capturing The Past
Skate Patents|Links|Sound Files|Alpha Sensory Home
All photos © 2001 by R. D. Nelson. All rights reserved.
R. Douglas Nelson - Bio & Portfolio
Copyright © 2001, 2002, 2003, 2008 R. Douglas Nelson. All rights Reserved.